기고[기고] Thoughts on the Camp David Trilateral Summit (CSIS, 23/09/06)
[기고] Thoughts on the Camp David Trilateral Summit (CSIS, 23/09/06)
정덕구 NEAR재단 이사장은 현재 미국전략국제연구센터(Center for Strategic and International Studies; CSIS)에서 Distinguished Visiting Fellow with the Office of the Korea Chair로 머물고 있다.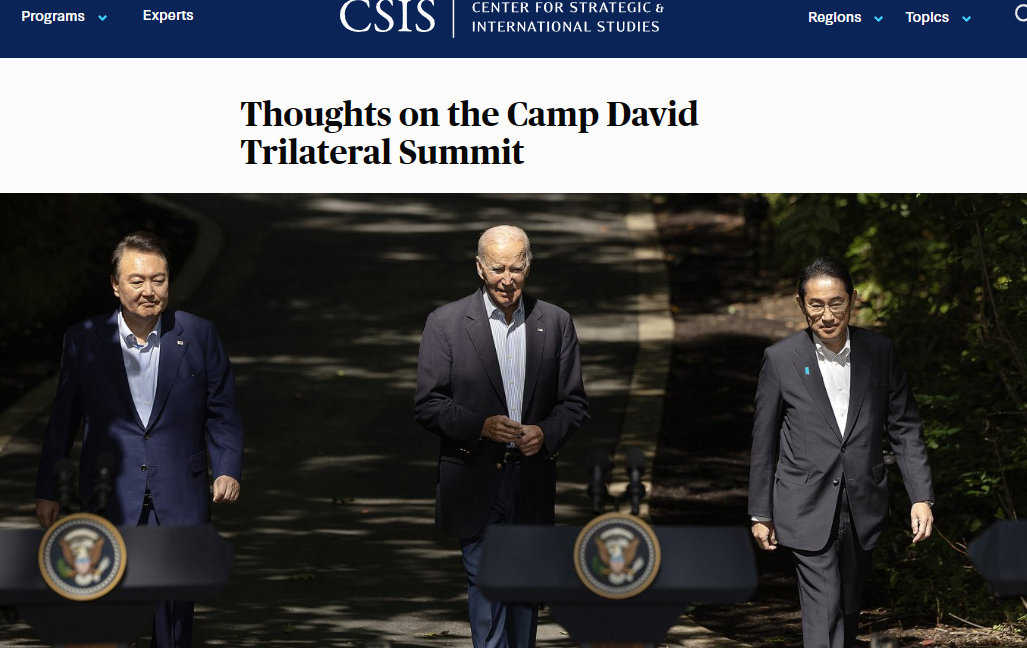 CSIS 원문 보기: https://www.csis.org/analysis/thoughts-camp-david-trilateral-summit
On August 18, President Yoon Suk Yeol, President Joe Biden, and Prime Minister Fumio Kishida convened at Camp David to partake in a trilateral summit. The six-hour-long bilateral and trilateral dialogues hold profound implications for the strategic landscape of the Indo-Pacific region that deserve careful consideration.
First and foremost, the trilateral summit has as its primary objective coordinating a shared and comprehensive approach to address China's aggressive foreign and security policy, alongside the grave threat posed by North Korea's nuclear capabilities. While historically there have not been major disagreements on the issues related to North Korean nuclear affairs and China's actions, shifts in perspectives did appear with changes in administrations of each country. The harmonization of different viewpoints among these three nations owes much to President Yoon Suk Yeol's audacious initiatives rooted in his values-based disposition towards supporting the liberal international order. Furthermore, the Biden administration has engendered a solid bedrock of mutual comprehension through strenuous policy coordination with its two allies in Northeast Asia.
Second, there are several factors that will affect the stability and sustainability of the agreements and declarations of the trilateral summit. The upcoming 2024 U.S. presidential election could alter the trajectory, particularly if there is a resurgence of the "America First" doctrine reminiscent of the Trump era. With President Yoon's term remaining over three and a half years, South Korea may exhibit stability in the short term. However, the Yoon administration's low domestic approval ratings may work as a potential instability factor, especially if the opposition party wins the general elections in 2024. Henceforth, some scholars and experts propose that formalizing these agreements through legislative endorsement could supply a more robust foundation for sustainability. However, this path may not be feasible due to practical constraints posed by factional dynamics in each country's legislature.
Additionally, the relations among the three countries do not all stand connected by solid lines; the relationships between South Korea and the United States, as well as between the United States and Japan, are connected by solid lines. However, the South Korea-Japan relationship is connected by a dotted line which could potentially become a missing link in this trilateral partnership.
For the trilateral relationship to become more solid and sustainable, substantial improvement between South Korea and Japan is indispensable. President Yoon has taken major bold steps even in the face of domestic political risks, and yet the relationship remains a dotted line in this important triangular partnership. Achieving a solid connection requires significant time and effort through constructive dialogue and concrete cooperation. Above all, the Seoul-Tokyo relationship yet falls short of a military alliance, and lingering negative sentiments among the public due to the unresolved historical issues still present challenges.
Third, the reaction from China and Russia is worth a careful consideration. In light of these unfolding developments, China might find itself in a relatively disadvantaged position in terms of the balance of power in Northeast Asia. This could prompt China to adopt a more conciliatory approach in its relations with neighboring countries including South Korea and Japan. China's recent efforts to mollify its approach toward South Korea, such as lifting group travel restrictions and reengaging in high-level diplomacy, may signal its intent to gradually normalize relations with South Korea. While not directly influencing North Korea's restraint, it may lead China to avoid unnecessary "pro-North Korea" actions.
Fourth, it is also crucial to consider the implications of the trilateral alignment of South Korea, the United States, and Japan on the trilateral relations among South Korea, China, and Japan. The upcoming trilateral summit among these three nations at the end of the year, if held, promises the potential for far-reaching consequences for regional security and economic collaboration. Particularly, this will offer South Korea a precious opportunity to observe China's response to its changed diplomatic posture, given its significant efforts to hold the trilateral summit as the host country. Therefore, South Korea and Japan must prepare to address how to manage their relationships with both China and North Korea.
Last but not least, the evolution and manifestation of the United States' de-risking strategy of "small yard, high fence" toward China, coupled with how South Korea and Japan can accommodate this strategy, also present tangible challenges. Of particular note is the escalation of competition between China and South Korea for dominance in upstream levels in the global value chain (GVC), which could seriously affect the interests of both South Korea and Japan. Given the distinct nature of industrial frameworks and internal dynamics within these three nations, it is imperative for them to develop new strategies for cooperation and competition.
In conclusion, the intricate matrix between South Korea, the United States, China, and Japan is evolving around new constants and variables. Achieving an equilibrium between conflicting and cooperative strategies, like-mindedness, and national interests is crucial in this era of great upheaval.
Duck Koo Chung is a distinguished visiting fellow with the Office of the Korea Chair. He is the chairman of the North East Asia Research (NEAR) Foundation based in Seoul, Korea, and a former Minister of Commerce, Industry, and Energy.